Whether you've recently had a tooth extraction, or might face tooth loss in the future, you'll likely want to replace those teeth. Dental implants are commonly used to replace teeth, whether they have been extracted due to damage or decay. One of the first questions patients have about the procedure is "How much do dental implants cost?" In this article, we'll explain the costs of dental implants, and what to expect. We've updated this post in 2023 to give you the most up-to-date information.
How Much Do Dental Implants Cost? Costs and Considerations
Dental Implants Are Not One-Size-Fits-All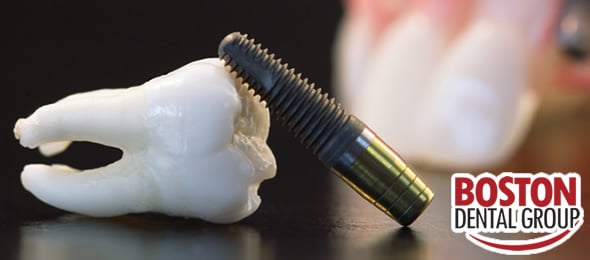 The cost of dental implants will vary from dentist to dentist, but it will also vary from patient to patient. Unlike dentures or bridges, which sit on top of the gums, dental implants require a surgical procedure to fix the false "tooth" to the gums. This gives dental implants a number of advantages over bridges; they are much stronger, longer-lasting and easier to maintain. Compared to other interventions, like partial dentures, dental implants also tend to reduce cavities and other dental problems seen in surrounding teeth.
Dental implants are permanent, and the health of your surrounding teeth, gums, and jaw bone will have an impact on how complex—and therefore how expensive—the procedure is. To figure out how much dental implants will cost for you, you will have to request a dental implants consultation. If a dentist advertises a particular price for all dental implants, it is important to know what this does and doesn't include. For example: A price may include the procedure itself, but not the cost of the abutment or crown, or vice-versa. Depending on the health of your teeth, jaw bone, and gums, other procedures such as soft tissue treatment or bone augmentation may be required to ensure the implant fits properly. This is why a thorough consultation is important to know how much dental implants will cost overall.

The Dental Implants Procedure
To figure out how much dental implants cost for you, it's helpful to understand the dental implant procedure and the basic cost structure. Keep in mind that these are only estimates. If, for example, you live in a busy urban area where the cost of living tends to be higher, your dentist will likely charge more to cover their overhead expenses.
Consultation
A consultation is the first step to get dental implants. At this stage, your dentist will simply assess the overall health of your teeth and gums. Your dentist will also take X-rays, which will show the health of your teeth roots and jawbone, and show if you have any untreated cavities or infections. During the consultation, your dentist will be able to give you more information about the care you'll need, including tooth extraction, or other preparations. You can also get more information about costs and what to expect from the healing process.
Get the details on the costs and care required for your dental implants
Schedule a consultation with a BDG dentist today
Tooth extraction
If your tooth has already been removed, this won't be a part of your expenses. If you're hoping to replace a cracked, or painful tooth, it's helpful to know whether you need a simple or complex extraction. 
Expected Cost: $100 – $600
Preparation
In some cases, your gums and bone may be healthy enough for a dental implant right away. In other cases, you may need gum treatment, tissue or jaw bone repair, which will add to your dental implant procedure cost.
Expected Cost: varies
Implant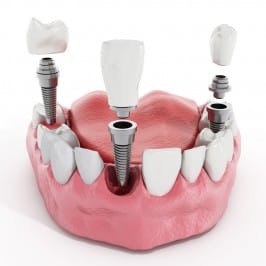 The bottommost section of the dental implant connects to your jaw bone. This is a surgical procedure requiring anesthesia which is necessary for all implants. After the implant, you'll be given a temporary tooth while the area heals.
Expected Cost: $1,500 – 3,000
Abutment and Crown
The abutment connects the implant to the crown and keeps the false tooth straight and solid. The crown is the false tooth itself, which is colored and crafted to match your other teeth. The crown may be made of metal, porcelain, resin, ceramic or a combination of materials.
Expected Cost: at Boston Dental group, Implant includes abutment and crown from $1,999/each
Additional Dental Implants
If you have two or more teeth missing in the same area, this can add to the complexity and cost of dental implants. For example: multiple adjacent teeth may be replaced with a dental implant-supported bridge. Your dentist may recommend other solutions, depending on the state of the teeth and your budget.
Expected Cost: varies
The Total Cost of Dental Implants
From this, you can see approximately how much your dental implant may cost. If the tooth has already been extracted and the implant procedure requires no additional treatment, a single dental implant may cost anywhere between $2,500 and $5,000.
How Can I Pay for Dental Implants?
If the price of dental implants seems out of reach for your current budget, there are ways to reduce the costs and make the costs more manageable. Dental insurance may cover some costs of dental implants. Working with a dental office that offers payment plans can also make it easier to afford dental implants.
BDG partners with Sunbit and Care Credit to give patients flexible payment options. With Sunbit, you can get a dental care loan with amounts up to $20,000 and terms up to 72 months. 90% of patients are approved for financing with Sunbit. We also accept Care Credit, which offers 0% interest extended payment plans. This can help you fit the cost of your dental care into even a tight budget.
Choosing Dental Implants in Las Vegas
Dental implants are generally more expensive than bridges, however dental implants are permanent, high quality and the closest option to natural teeth. They won't move around and they will protect your mouth from both bone loss and the build-up of bacteria in hard-to-reach places. Investing in dental implants means investing in your smile long-term.
---
If you have a missing tooth that is bothering you, we can help. Boston Dental Group operates general dentistry practices throughout the Las Vegas and Henderson area, as well as Lake Havasu.
Call now or request an initial consultation at one of our Las Vegas dental offices. During your dental implants consultation, we can give you a recommendation, quote, and discuss insurance and financing.