Cosmetic dentistry services to restore and improve your smile.
If there are parts of your smile that you don't feel confident about, our dentists provide cosmetic dentistry services that may be able to help. Your dental and oral health is unique because it is essential to your appearance and your confidence, as well as your overall health. Cosmetic dentistry procedures can help to restore damaged teeth and keep your smile white, healthy and beautiful.
Cosmetic dentistry procedures can restore the look of your natural teeth if your teeth have been damaged, you've lost one or more teeth, or you have silver fillings that are affecting your appearance. BDG Dental Services locations in Las Vegas, Laughlin, and Lake Havasu provide cosmetic dentistry procedures that will reinforce your teeth and maintain your dental health, while also restoring the appearance of your smile.
There are many options for cosmetic dentistry and dental restoration. Your dentist can tell you more about the options available to you, and how your smile can be restored. Teeth whitening, veneers, dental implants, and composite fillings are a few of the options available.
Cosmetic Dentistry Services Include:
Teeth Whitening: The whiteness of your teeth naturally fades to a yellowish color over time. Teeth whitening renews the bright white appearance of your teeth.
Veneers: Dental veneers are a useful cosmetic dentistry procedure that can cover a wide variety of imperfections, including dark stains, chips and more.
Composite Fillings: Composite fillings are made from a combination of ceramic and plastic. These fillings are white instead of silver, so they blend into your teeth.
Dental Implants: If you are missing teeth, a dental implant can replace them. Dental implants are made to fit right alongside your other teeth.
Interested in Cosmetic Dentistry Services in Las Vegas?
Make an appointment to talk to your dentist about cosmetic procedures that are right for you.
Cosmetic Dentistry Services in Las Vegas
Teeth Whitening
Teeth whitening services from your dentist are safer and more effective than over-the-counter teeth whiteners. Your dentist will use a whitening solution that will work through your tooth enamel and whiten the dentin underneath. These whitening agents break down the stains that cause teeth to appear faded or yellowish.
Our dentists use Opalescence™ Boost™ professional teeth whitening to give you a brighter smile in about an hour.
Veneers
Veneers can be used to cover a variety of dental imperfections. Dental veneers are thin layers of porcelain, ceramic or resin which are crafted to look like the surface of your teeth. These thin layers are placed over damaged, stained, or strangely spaced teeth, covering them and helping protect them from further damage or erosion. Veneers will match the shade of your surrounding teeth, so they look healthy and natural.
Composite Fillings
Many common fillings are made from various metals and appear silver in color. Composite fillings are made from ceramic and plastic, so they appear white. For this reason, composite fillings are preferable to silver fillings, especially when they are visible near the front of the mouth. If you have silver fillings that are distracting to your appearance, our dentists can replace your silver fillings with composite fillings.
Dental Implants
If you have missing teeth, either due to decay, injury, or something else, dental implants are ideal for replacing your teeth. Dental implants are crafted to match the shade and shape of the surrounding teeth. Since they are bonded to the jawbone, dental implants will also help to prevent bone loss over time. This procedure will require surgery, but it is an effective replacement for missing teeth.
Hear What Our Patients


Are Talking About
The first person who I spoke with was Juliana. I was on my way to the dentist. I was worried that I was not going to find the location. She assured me that I would find Boston Dental. Juliana gave me some landmarks around there. She was so nice to talk to. Cashmiere was the next person I met. She assisted Dr, Justice. She so comforting. Miss Thelma was the office manager. She helped me understand what my insurance paid. She was very caring and helpful. Dr. Justice was very patient, and explained every he was doing for my procedure. Thank you all for such a Happy Experience Elaine Walsh
Elaine Walsh
21:27 23 Feb 20
I really do like this dental place. Pros: Super Nice staff from the front office to the clinicians. Dr Justice never tried to up sell me anything, which I appreciate. I love that clean teeth feeling when I leave their office.
First time here and I had a great experience! I was brought back almost immediately, where Carlos, the dental assistant, did the flossing and polishing. Vicki, the dental hygienist, did my cleaning and gave me an informative lesson on why I should be flossing. I told her ahead of time that I had sensitive teeth on the bottom and she was very gentle in that area, unlike some other cleanings that I've had. Overall, I was out in about 45 min. Super quick and efficient!
Breanna Snyder
20:13 21 Feb 20
I have been coming here for years and I am very happy with the services. Dr. Justice is thorough and patient. Vicki Wells the Hygienist is professional, friendly and caring and the office staff are very friendly. The office atmosphere is very clean and relaxing.
My experience with Boston Dental Group has been great! Dr. Justice is awesome and Office Manager, Thelma is wonderful as well. She was extremely helpful with explaining my coverage options and scheduling future treatment plans.
Angela Lee
20:00 22 Jan 20
I'm a new patient and have had a very positive first impression. Latisha is a wonderful receptionist who helped with pre-paperwork. Thelma is great with billing, and took the time to do steps of approval for CareCredit, a great plan that allows monthly payments for extensive dental work. Vicki is a stellar hygienist with just the right touch. Carlos and Cashmere were great, and the good Dr. Justice was caring and professional. Thanks to all of you!
Anna Hinds
01:49 11 Jan 20
Really great service for the bi-yearly cleaning. The hygienist is super sweet and the dentist makes sure you're cared for. Great staff and very efficient!
Audrey Bischoff
20:45 07 Jan 20
The stuff is welcoming and friendly and Isabel is great, a really warm person. Doct Glenn Justice is honest and professional. They tell you exactly what you need. He's definitely one you can trust. A dentist that I Highly recommend.
Zandra Pajares
19:31 22 Nov 19
For once in my life I don't fear going to the dentist. The staff at Boston Dental are very kind and always on time for me (if not early). Vicki is my dental hygienist and I LOVE her! So sweet and gentle. Also very knowledgeable about any questions I have. My teeth have never been in better shape! I leave happy and with beautifully cleaned teeth everytime! Thanks Vicki and Boston Dental. 🙂
Brandie Drusen
19:42 12 Nov 19
I was a patient at Happy Dental and the dentist I was going to was no longer there on Friday, I was referred to Boston Dental which is not close to my house but I had a very good treatment with Dr. Glen Justice and the hygienist. I hope to keep coming to this office and that Dr. Justice will be there on Friday so I can have a great dentist again. Thank You
Robin Stevens
18:37 18 Oct 19
Highly recommend Vicki Wells! Great hygienist and get person overall, along with Mark. I came for cleaning and they were fantastic and gently with my teeth. HIGHLY RECOMMEND coming here @Boston Dental on Lake Mead.
Ariana Santisteban
22:11 09 Oct 19
Best hygienist in Vegas! Vicki Wells gas taken care of my family's teeth for over 8 years now and I wouldnt go anywhere else. Outstanding.
Suzann Smith
19:22 30 Aug 19
I've been coming here for my dental cleanings for many years now, and I truly love this place! The environment is very nice and relaxing, as if you're in a spa. I highly recommend using the hygienist that I always go to as well. Her name is Vicky, and she's so wonderfully kind and gentle. She makes my experience here so lovely!
Maya Kuzmanovic
20:03 27 Aug 19
Carlos and Vicky were excellent helping making share that I take great care of my teeth. Very professional and very helpful what more can you ask for!
Chris Santana
21:32 22 Aug 19
It has been two years since I've had my teeth cleaned and because I just moved to Vegas I've decided to get the job done. I set up an appointment with Boston Dental at my convenience and was welcomed with courtesy.I felt very fortunate to receive an appointment with their hygienist, Vicki Wells. She was very efficientcleaning my teeth and gave me the complete results. I was very satisfied with her work and have set up my next appointment. By the way, no cavities this time.
Joanne Barnes
01:02 22 Aug 19
Michelle was great and very personable and Julia was really kind! I love this place, they make going to the dentist not scary!
Madison Scinta
21:42 13 Aug 19
One of the best place I've been too and I have been to a lot of dentist without Vegas. The staff here is great, specially Potter and Thelma Thank you Boston Dental, on W. Lake Mead BLVD
Cathy Cane
05:19 08 Aug 19
Came in for dental cleaning with Carlos and Julia had a great experience and would highly recommend.
Sean Temple
21:44 29 Jul 19
I did like Julia, she did a very good job probably I will ask for her on my next cleaning visit but with my filling that I needed I felt the Dr Justin was rushing a little bit. I do appreciate that they had did both the cleaning and filling on the same day .
Ermelinda Ostrovica
00:30 24 Jul 19
Super nice staff and quality and quick cleaning. Would recommend!
Tyler Smith
00:54 10 Jul 19
Great people with good sense of humor. The hygienist, Potter, was great and chatted with me while I waited to be seen. I had an exam and my fillings done the same day.
Kristin Principe
23:29 26 Jun 19
Always a great experience! Professional and courteous staff! Thankyou Carlos, great job! Would definitely recommend to everyone!
Dan Demello
19:13 04 Jun 19
We started going here because my son had some bad experiences in the past at other places. He looked up reviews and picked Boston dental. They were so good to him, they are now our family dentist. I highly recommend Dr. Justice.
Debra Slaughter
15:47 24 Apr 19
The staff at Boston dental is amazing!!!! Leticia is very knowledgeable and friendly. I was concerned about out of pocket expense and Leticia and Elsy took their time to explain everything. Laura cleaned my teeth and also took her time to explain everything and not to mention she did a GREAT CLEANING. I'm very happy I finally found a great dentist. HIGHLY RECOMMENDED!
Brooke Ellis
05:20 08 Feb 19
I would really like to thank Dr Justice for being so kind and for being so amazing. He really makes you feel comfortable and at ease. I will and have highly recommend him to all my friends and family, even some neighbors.Keep up being you Dr Justice your fantastic.Thanks againJudy B
Judy Britain
22:56 17 Jan 19
Amazing staff, I really recommend this office for all dental care. It made my day to meet someone at the counter with a great positive attitude like Miss Leticia Broudnax. She is such a sweet person and very professional in her job. Keep it up Boston dental you are amazing guys
Tatyana Richard
22:34 08 Jan 19
Thank you so very much for helping me. I called as a new patient, talked with Leticia who was super helpful, answered my questions without making me feel like I was stupid. I'm looking forward to being a new patient with this dental office, who employ workers that can work with me and explain things to me in terms I understand. Thank you again!!
sidles tina
02:17 06 Jan 19
This place is absolutely fantastic, fun, & clean! I've always wanted to get braces put on but never could because almost every dentist in vegas requires care credit and have money upfront. This place was the only place I could find that allows me to do payment plan out of pocket!!! My monthly visits has been quick. My very first visit here for consultation I had my two young toddlers( 2 & 4) with me and I decided to go ahead and get braces put on. the staff asked if they could take my children and play with them while I was getting braces put in. Right thn and there I immediately knew this was the best place to be! Truly caring and wonderful staff. I will never go anywhere else!!
Victoria Catharina
22:01 05 Jan 19
The staff is so nice and helpful here! I got my rubberbands changed to white by choice and upon seeing myself in the mirror I realized this was not a good choice. I walked back into the office and they took care of me immediately and helped change my rubberbands back to clear within minutes. Amazing work! Would recommend to everyone!
Rustum Grewal
19:07 05 Jan 19
I would absolutely recommend this dental office ! Potter specifically put all my worries at ease and made me feel extremely comfortable, and answered all my questions. I am very anxious when it comes to the dentist and this office has made my visits easy and quick !
alexis patton
22:41 26 Dec 18
I love this place!!! Dr Justice is a great dentist, Isabel the dental Asst has a beautiful personality , I recommend this office for all your Dental needs!!!
Aniuska Alvarez
18:49 13 Dec 18
I have been going to Boston Dental for over 8 years now -- and will never go anywhere else!!! The front desk staff always extends a warm welcome. They are always very professional and knowledgeable.Vicki is the ultimate reason why I am so committed and loyal to this establishment. She is by far --- the best Dental Hygienist I have ever had work on my teeth! I would recommend her to anyone and everyone!! Vicki is so detail-oriented, personable, professional and honest. I dont know whether she keeps great notes about your last visit and conversations,She is the reason why my gums and teeth are in heathy conditions. Thank you again Vicki!
Carlos de Leon
17:44 12 Jul 18
Amazing office and amazing staff. Dr. Justice handles everything with ease and pain free and the dental assistant potter had Everything in check. Highly recommended
INCREDIBLE DENTIST & STAFF! I called around endlessly asking if any dentist was able to take a walk in and in net work with my insurance last minute! Hallelujah Boston Dental was able to squeeze me in! I had severe pain for two days prior. I was greeted by the front desk ladies who were all smiles, and then Mr. Potter took me in the back to begin examination. He was so fantastic! Dr. Justice came in after to look everything over, he was incredibly patient with me and broke everything down so it was easy to understand and super in depth. They were not forceful in me making decisions, which I've had in the past. They both had GREAT senses of humor, which is always a plus! I had to remove my two bottom wisdom teeth, and it was already at the end of their day but they stayed late to get the job done! I have struggled to find a dentist, but I THANKFULLY stumbled upon this office in an emergency and I think it's safe to say they are my full time dentist!
Sarah Quinn
01:16 01 Jun 18
This place is excellent, they always take great care of you here. Everyone is super friendly and knowledgeable, i would recommend everyone to come here. Maritza is great, always super friendly and great conversation:)
ashley o'neal
16:12 21 May 18
I have been going to Boston Dental for over 7 years now -- and will never go anywhere else!!! The front desk staff always extends a warm welcome, whether on the phone, to remind you of your upcoming appointment or in person when you arrive. I would most especially like to recognize Leticia and Elsie as primary examples of this type of service and greeting.Stephanie is fantastic in her role as well, and always does a fabulous job in polishing, flossing and preparing my teeth for a good cleaning 🙂 Thank you Stephanie!!!Vicki is the ultimate reason why I am so committed and loyal to this establishment. She is by far --- the best Dental Hygienist I have ever had work on my teeth!!!!!7I would recommend her to anyone and everyone!! Vicki is so detail-oriented, personable, professional and honest. I dont know whether she keeps great notes about your last visit and conversations --- or if she is just blessed with an impeccable memory!!! Either way, whenever I visit (which is approximately every 6 months), she refers to our last conversation like it was just yesterday!!!!! I am amazed by this during every visit and can't stop raving about this Dentist office!!!I give this establishment 10 STARS and highly recommend that if you are not this happy about the dentist office that you currently attend, you must give Boston Dental a try!!!Vicki thank you for being so fabulous and giving me a smile I can be proud of!!!!
Natasha Gonzalez
17:56 18 May 18
Wonderful staff Stephanie and Vicki take amazing care of you while your having your teeth cleaned.
Leann Cornelius
22:59 11 May 18
Had a good dental appointment julia and maritza were great ?
Yahir jimenez
01:11 19 Apr 18
Maritza is a great Dental assistant! Highy recommend!
Stephanie York
16:43 11 Apr 18
At my most recent visit, my dental hygienist was Maritza. She was very friendly and had such a positive attitude. Easy conversation and made my cleaning enjoyable rather than sitting in silence.
jasmine chao
19:56 10 Apr 18
My experience was awesome they were fast friendly knowledgeable made sure I was comfortable and I also saw a senior elderly couple go in and they walked them back to the room I highly recommend this place I can't wait for my next appointment I'm glad to have this as my new dentist office
jamie williams
20:47 22 Mar 18
I had a wonderful dental visit. Maritza and Stephanie were great.
Maria Rosenow [STUDENT]
22:19 20 Mar 18
Extremely friendly, great office environment and all procedures fully explained. This was my first visit and I will return.
Rick Roberts
21:15 15 Nov 17
I would like to thank Dr. Tran the man along with Karen, Josie, and Suzy for excellent dental work and outstanding customer service. My family and I appreciate you! I'm going on 14 years at Boston Dental
Tony Jones
22:23 04 Nov 17
AMAZING place to call a home dentist! The staff is respectful and honest. Never giving You false information or treatments!! I LVE this place!
Frank Edwards
16:44 03 Oct 17
I highly recommend this dental clinic.. Dr. Justice is so thorough and the hygienist Vicky Wells is the best!... i was spoiled from my dentists in the Philippines, Dr. Pam Ortiz and Ralp Bondoc... and for years I couldn't find similar experts like them... now I found Dr. Justice, Vicky and the rest of his team..and I'm keeping him to take care of my teeth... #preventingCHF
IMEE DOWNING
00:28 08 Sep 17
Growing up in Washington State, I was never afraid of the dentist. I moved to Las Vegas over 10 years ago and visited a few dentists. I felt they were wreckless and didn't care. I became afraid and so did my husband and kids. We finally went to Boston Dental, where we are getting the best treatment. By far Boston Dental makes my family comfortable. The staff is amazing and it doesn't matter what we go in for we know we will be well treated and cared for. Getting my teeth deep cleaned feels like I am at a spa. My husband who has always been afraid of the dentist was able to go in and get his root canal without having to be put out. My son has gotten his braces and my daughter has no cavities! Just simply the best and right across the street from me. I recommend Boston Dental to all my family and friends!
Andrea Azzari
05:31 17 Mar 17
Benefits of Cosmetic Dentistry Services
Cosmetic dentistry services can easily help to cover large spaces between teeth, discoloration, missing teeth, and more. While cosmetic dentistry is primarily to improve the appearance of your teeth, it can also help to improve the function and strength of your teeth. When you feel confident about your smile, you'll also feel more confident in your overall appearance.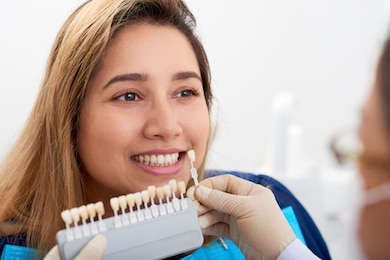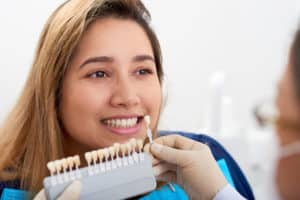 Schedule an Appointment
Schedule an appointment to speak with a dentist and learn more about cosmetic dentistry services. We will contact you as soon as possible to confirm your appointment time.