Whether you've embraced your role as the household tooth fairy or sigh at the prospect of leaving a small gift in exchange for your child's newly lost tooth, it's hard not to smile at the thought of National Tooth Fairy Day, which occurs on August 22. This national holiday is a great way to help educate children, and perhaps learn something new yourself! A trip to the dentist can help get teeth looking their best in anticipation of the fun day, which you and your kids can celebrate in the following ways
1. Read a Book
Your child is undoubtedly excited about National Tooth Fairy Day, making it a great time to harness his or her attention for a fun and educational experience. A book geared towards teaching children about the teeth, or perhaps about dental hygiene, is a great way to get started. There are plenty of books available, although bostondentalgroup.com has chosen five books to help narrow down the options, including Brush, Brush, Brush by Scholastic Books and The Tooth Book by Dr. Seuss.
2. Start with a Lesson
Begin the day with a lesson about proper technique and the appropriate amount of time to spend on brushing and flossing. Once you are done demonstrating, have the kids join in, making any necessary corrections along the way. Be sure to remind them how much the tooth fairy appreciates clean teeth!
3. Draw or Paint a Picture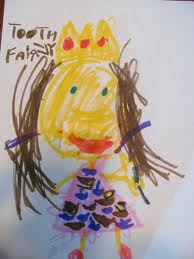 Kids enjoy hands-on activities, making this one a fun choice. Let them express their creativity by drawing or painting a picture of what they believe the tooth fairy actually looks like. When they're finished, hang the art in a visible location, such as the front of the refrigerator, as a reminder for good dental hygiene.
4. Compose a Song
Even those who aren't exactly musically-inclined can have a good time putting together a tooth fairy-related song or performance. Kids may choose to use their voices, or a combination of instruments and voices. Feel free to step in with a contribution of your own along the way!
5. Set up a Tooth Fairy Door
Yes, this is an actual door that you can set up around the house. Most doors are colorful or even majestic in appearance, allowing you and the kids to use your imaginations when thinking about where the tooth fairy really comes from – and returns to when she's done collecting teeth! Bostondentalgroup.com has a variety of unique Tooth Fairy doors to help you get started.
6. Write a Letter
Writing a letter lets the little ones express their creativity and gratitude at the same time. The letter doesn't have to be long, as even a few meaningful sentences can get the point across. To set a really good example, write a letter to the tooth fairy yourself and share it with the kids when you're done!
7. Tooth Fairy Media
As the day winds down, relax with some holiday-related media. A good choice is "The Tooth Fairy," a 2010 film in which a minor-league hockey player must make amends by serving a week-long sentence as a real-life tooth fairy. If you'd rather listen to music, try "Fairy Night Songs" by Singh Kaur and Gary Stadler is a great choice!
As National Tooth Fairy Day comes to an end, it's important to keep kids enthusiastic about their teeth and oral hygiene in general. Use these activities at intervals throughout the year to spice up their daily dental routine. Keeping routine appointments with BDG, a group of pediatric dentists in Summerlin, is also a must!
Comments
comments