Pediatric Dental Offices in Las Vegas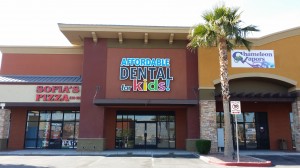 All of our dentists and orthodontists are trained to perform dentistry for children with patience and care. With 18 locations, you can easily find an experienced and compassionate professional near you.
If your children are particularly nervous about the dentist, or they have had bad previous experiences, our Affordable Dental For Kids location in North Las Vegas is the perfect solution. With colorful, themed rooms, kid-sized waiting room tables, and treasure chests filled with goodies, kids love going to our dental office. Your child can even watch a movie while they get their teeth cleaned!
Schedule an Appointment with a Specialized Children's Dentist.
At Boston Dental Group, we are invested in the dental health of your family.
With 18 locations in the Las Vegas area, we make it easy to find a caring professional your child will love. Our offices also include a specialized location called Affordable Dental for Kids in North Las Vegas.
Schedule an appointment to receive:
Education on proper oral hygiene
A dental check up and fluoride treatment
A long term dental treatment plan for your child
Schedule an appointment using the form at the right. We will contact you during our soonest available office hours to confirm your appointment time.
Schedule a Child's Appointment
Hear What Our Patients


Are Talking About
My childern have been going to this Dentist and they are awesome. The receptionist is always bright and full of smiles. They care about their patients and the environment is welcoming. Great Job Guys
Kinna Eaton
18:03 21 Jun 19
I love this office..staff is very sweet and attentive. The Dr is awesome my kids love him and my youngest is usually very very shy with men especially those she doesn't know and she talks to this doctor all the time and is very comfortable and is not scared to go to the dentist which is a huge accomplishment LOL.
Nicole Watkins
14:15 21 Jun 19
My kids love it here, and so do I. I have had to cancel and reschedule appts. due to personal reasons and I always get the perfect appointment tone to fit my schedule. The staff of always so friendly and professional. My son is autistic and he likes to come with no cavities. My daughter loves to come as well. This is their dentist unless we move out of this city. Affordable dental for kids for life.
Mitzi Adeyemi
22:36 13 Jun 19
Dr. Galada and his staff are amazing with my three children!! We just recently started coming here. We live kind of far but the drive is worth it. Everyone in the office is friendly and very quick which is important when dealing with kids. The office is decorated beautifully and really cool! My youngest son had to get 2 extractions this week because of an absess and he was very nervous and scared at first because it was his first time having teeth pulled. He started to cry but the dentist and his assistant took their time and made him feel very comfortable and at ease. By the end my son told him he saved the day. Hes no longer scared to go to the dentist and he is feeling great. As a parent its important to know your kids are in great hands.
Queen Stylez
20:19 13 Jun 19
Love this office. Staff is friendly, technicians know what they are doing, and the dentist truly cares about our kids tooth health. It's a bit of drive for us but we will gladly do it for a dentist we can trust with our kids teeth!
Lisa Alarcon
20:59 10 May 19
Great customer service. My daugther loves it there.
Armengol Ortiz
04:55 26 Jan 19
Went in & Ms Kiera & Mr Galanda were so nice and patient with my 3 year old and my 4 year old they really helped ease the kids worries and we got out of there in a jiffy. Will definitely be coming back.
Karen Valdovinos
18:20 25 Jan 19
Best dentist for kids. Dr Galada is really knowledgeable. He explained everything and was able to answer all my concerns. All the assistants were really nice and helpful. Kiera, Nadia, Tristen and Tabi are great. Alyssa welcomed us with a big smile.
alejandra garcia
05:35 19 Jan 19
I loved it here Kiera and the front office manager ale was great in assisting with my daughter and Dr. Galada was a great help
pamela baker
17:47 18 Jan 19
Loved it there. The dr and staff was really and it's really cute inside. They move really fast I walked in and sat down then they called me back. Loved it.
vanessa vasquez
22:02 14 Jan 19
Been coming here for as long as they've been open. Kids love it. Awesome staff and doctors.
Tiffany Hooper
01:01 08 Feb 18
Friendly staff and very helpful. My daughter loves coming here because they make her feel comfortable and not scared. She enjoys the movies and having her name on the wall.
I am very big on customer service.. This office was the best Dominique, Omar, Claudia and Dr. Galda were the best ever I will defiantly be back and recommend this office.. The entire office is very friendly and welcoming... Love it!!
Shelayna Gray
22:15 17 Jan 18
Keira and Dr. Galas are awesome! My 3 kids had a great experience here. 3 cleaning and a pulled tooth with no pain or worries. Good job Affordable dental for kids keep up the good work.
Jessica Mendoza
00:36 13 Jan 18
My entire family loves going here. My kids now enjoy seeing the dentist/orthodontist. They make you feel welcomed & they truly care about your kids happiness as well as yours. The entire front office staff & the back office staff are truly, truly, amazing & wonderful people! We will be staying with them until our kids are to old to go here anymore!
Kayla Johnson
14:14 02 Nov 17