Our company, BDG Dental Services was founded in 2002 and employs over 200 team members in two states through 20+ multi-specialty dental practices and supporting subsidiaries. We feel that one of our biggest accomplishments over the past 17 years is the ability to give back to our community. So much so that we have built our mission around helping others.
"We are in the business of helping and growing people, we just happen to be in the field of dentistry"
– Dr. David Ting, CEO, BDG Dental Services
Back in March 2014, our CEO Dr. David Ting came to our management team and asked us how can we "spread the light" in our community and how do we multiply that "giving" so it is contagious? After much deliberation with multiple team members and departments involved, Project BDG born, a 501 (c) (3) non-profit that provides dentistry for the less fortunate.
There are hundreds of programs nationwide that give out free dental services to those in need. How do we multiply that "giving" in our community? The answer that we came up with was Pay it Forward Dental Care.
Our dentists, hygienists and staff volunteer their Sunday once per month to provide dental treatment to patients that otherwise could not afford it. In return, patients are required to initiate three "acts of kindness" for others, anything that makes a difference in someone's life counts. We provide three prepaid post cards and patients are required to report those "acts of kindness" back to us. If they complete all three they will be allowed to come back to another Project BDG event in the future.
Since Incorporation in 2014
Project BDG has treated over 520 patients and has provided nearly $250,000 worth of donated dental treatment to the Las Vegas Community.
In addition to Project BDG, BDG team members have volunteered twice a year since 2015 with the Tzu Chi Foundation to help their wonderful mission. At each of these events we roughly see 100+ patients in 6 hours with 50+ Tzu Chi volunteers, doctors, and team members from all over the valley.
Just last month, at Project BDG's August 2019 event we saw a record 31 patients and donated over $16,459 in dental treatment in just a couple of hours!
See the amazing volunteers below from that event. None of this would be possible without our generous team members!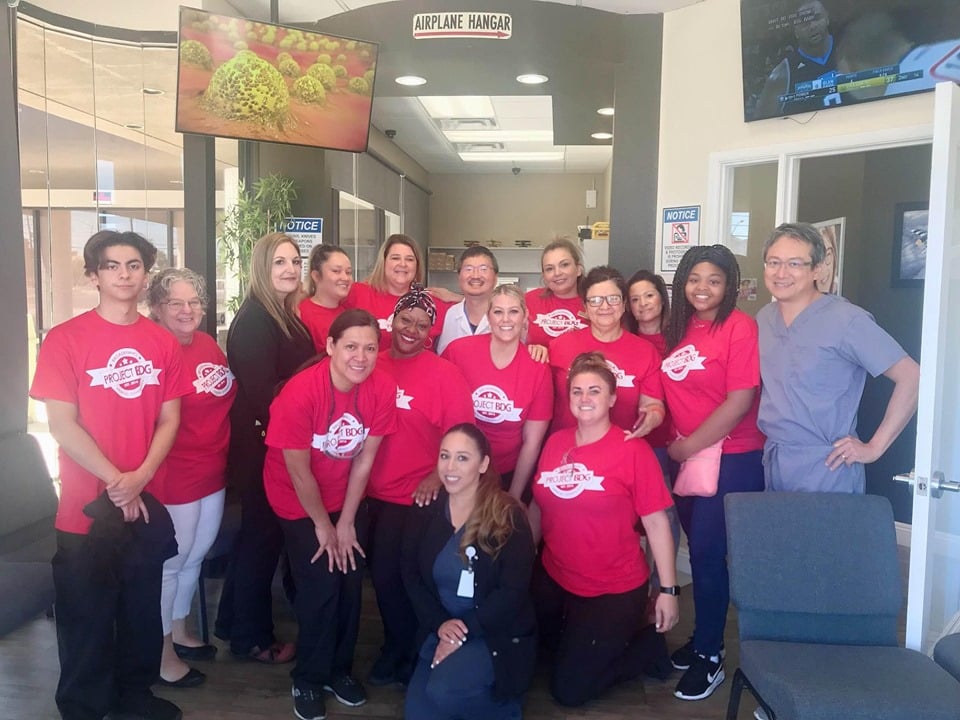 About Project BDG
Project BDG was developed by members of BDG Dental Services to provide dental care to those in need. Our objective is to give back to the community by providing dental care to patients that otherwise could not afford it. Patients are asked to pay it forward by doing three acts of kindness for others. By providing "pay it forward" dental care, we are able to help change the community one patient at a time.
Find out more at ProjectBDG.com
About BDG Dental Services
BDG was founded in 2002 and today is one of the largest full-service dental group in southern Nevada.
Each practice is individually owned and operated by a licensed, general dentist providing you with the highest quality and affordable care. BDG oversees the marketing, management, and purchasing for all offices, which allows us to offer you the highest quality care at the lowest price.
We set ourselves apart by offering all dental services under one roof including: orthodontics, oral surgery, implants, mini implants, dentures, pediodontics (children), gum therapy, oral cancer screenings along with general dentistry.
Find out more at BDGDentalServices.com