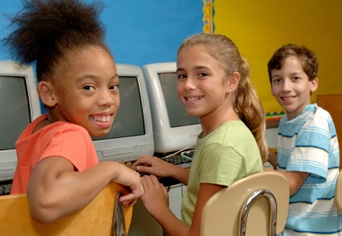 Across the United States, tooth decay is significantly more common among children than other well-known childhood ailments such as asthma and hay fever. In Nevada, the incidence of dental caries (the medical term for tooth decay) among children is even higher than the national average. A number of trends and interesting correlations appear from Nevada children's dental care statistics and children's dental care statistics in general, showing ways which we might combat this statewide and nationwide issue.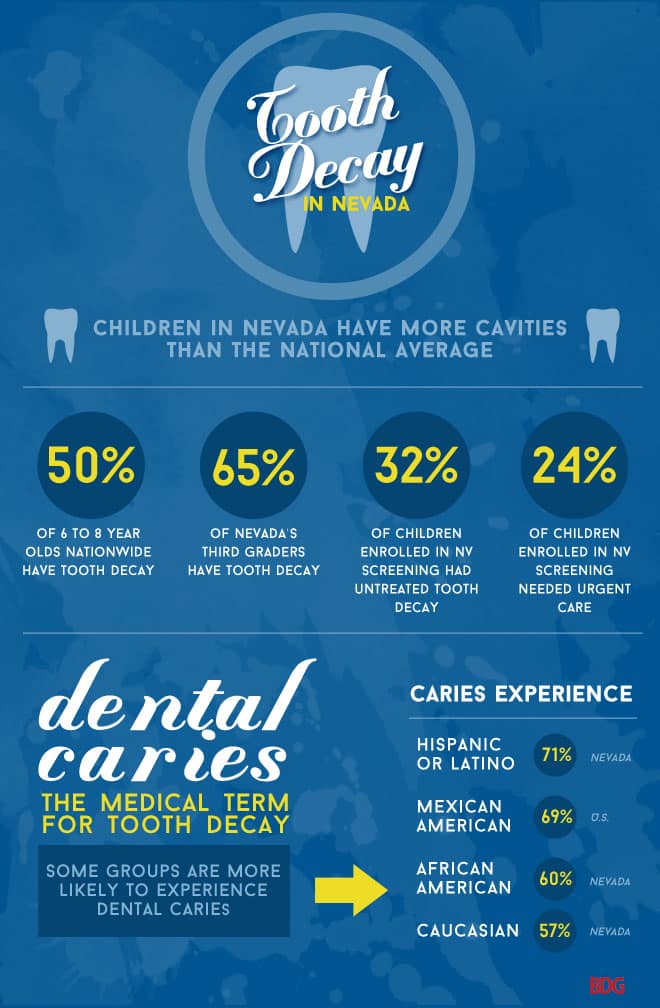 Children's Dental Care in Nevada: Statistics and Trends
What are dental caries?
Tooth decay results when the mouth's bacteria produce acids that cause mineral loss in the teeth's hard substances, dentin and enamel. Left untreated, tooth decay can lead to poor tooth function, compromised structure, unappealing appearance, infection, pain, and even the loss of teeth.
How common is tooth decay among Nevada's children?
According to recent statistics, nationwide, 50% of children aged six to eight experience dental caries, compared to 65% of Nevada third graders. Additionally, the percentage of Nevada children aged three to five with tooth decay in their baby and adult teeth was more than four times higher than the goal Healthy People established in 2010.
There's even more bleak news about the state of oral health among Nevada's youngsters. A 2007 screening of Head Start enrollees found that 54% of the kids enrolled exhibited tooth decay; the dental caries were untreated in 32% of the children, and urgent care was needed in 24% of the cases.
CDC data collected as of 2011 indicates that children's dental care in Nevada has improved, though the numbers are still high. 47% of Head Start children in Nevada had experience with dental caries, including about 12% being untreated. Dental caries at this early age expose children to a number of risks, and make it increasingly difficult to maintain oral health with their permanent teeth.
Who is most likely to experience tooth decay?
Tooth decay is not distributed evenly throughout the country or state. Statistically speaking, certain demographics are more likely to have dental caries and less likely to have their tooth decay treated. Such groups include African-Americans, Mexican-Americans and individuals of Hispanic or Latino descent. These groups exhibited more dental caries among children and had more incidences of tooth decay being untreated or resulting in the need for urgent care.
CDC information indicates that this trend continues, and is true for children's dental care in Nevada as well as nationally. As of data collected in 2011-2012, dental caries among non-Hispanic black and Hispanic children aged 2-8 years were approximately 6 to 7 percentage points higher than the national average. This indicates that early intervention is especially important for children in these at-risk groups. Diligent dental care and regular dental check-ups beginning as early as possible can reduce these numbers and prevent dental issues into adulthood.
Does access to healthcare and insurance play a role?
In a 2018 report examining health resources and expenses for children, Nevada ranked last in the nation for childhood care. With almost the highest proportion of uninsured children and the highest proportion of unpaid children's medical bills, it's likely that medical insurance, dental insurance and bills play a big role in low-ranking children's dental care in Nevada, as well as general healthcare. While oral hygiene as well as sugary drinks and foods also play a significant role in the development of childhood caries, it is notable that Nevada ranks only 36 out of 51 states (including the District of Columbia) for childhood obesity and nutrition, and last when it comes to medical expenses and insurance.    
How can I protect my child's teeth?
Teaching your children about the importance of brushing and flossing from a young age can help to prevent dental caries in primary both primary and permanent teeth. However, brushing and flossing alone are not enough. While attentive oral hygiene can significantly help in the fight against dental caries, dental check-ups are also a must. Dental check-ups are especially important for children, who generally consume more sugary foods and beverages, and are therefore more likely to experience dental caries. Dentists use a number of treatments to strengthen teeth, restore minerals lost to acid-producing bacteria, and provide a layer of protection. One of the best ways to accomplish this is by using dental sealants.
How does a dental visit prevent childhood tooth decay?
A pediatric dentist gives children dental cleaning they cannot do by themselves. The dentist also evaluates their teeth and points out any areas of concern. If children aren't brushing and flossing often enough, the dentist will tell children and parents where more attention is needed.
Several dental procedures can also help fight tooth decay, and these cannot be done at home. Fluoride varnish has been used for decades to rebuild minerals lost to acid-producing bacteria. According to the CDC, fluoride varnish prevents about 33% of tooth decay on primary teeth. Dental sealants are another very effective way to prevent childhood caries. The CDC reports dental sealants reducing decay on permanent teeth by 81% in the two to four years after the sealants were applied. Both of these methods used during a dental visit gives children a much better chance at preventing childhood tooth decay.  
Proper instruction, dental hygiene and regular dental check-ups can all help improve children's dental care in Nevada and reverse these unfortunate statistics. If you don't have insurance, find a dentist in Las Vegas who offers flexible payment options with no insurance required. A good dentist will work with you to find a way to provide the care your child needs.
Poor oral health can lead to a variety of other health issues including heart disease, pregnancy complications, and even difficulty concentrating. To learn more about oral health, or to find a dentist in Las Vegas, contact BDG at (702) 388-8888.
If you liked this post, you might also like: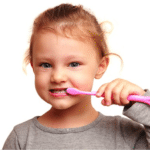 A Full Checklist for Choosing Your Pediatric Dentist in Las Vegas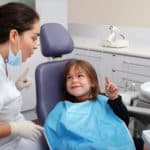 What Age Should a Child Go to the Dentist?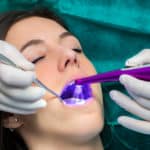 Dental Sealants: What Are They and Can They Prevent Cavities?