Dental implants are a great dental advance especially for people who have been in traumatizing accidents and want to look as natural as possible.  Instead of having to wear dentures or dental partials patients have the option to get teeth permanently implanted into their gums instead.  Even though it is a more expensive procedure than ordering dentures it means less maintenance and less worry. Dental implants are so permanent that they have a 95% to 98% success rate when inserted and cared for by the patient.
Dentures or partials can be embarrassing since they have to be removed nightly. Imagine staying over a new partner's house and needing to remove your false teeth?  Since these false teeth are not placed into the gum, food often will get trapped within the pieces or even in between your natural gum line and that of your plastic temporary enhancement.  A dental implant is literally screwed into your jaw so it cannot be removed and acts like a normal tooth.  And it has the added benefit of never needing to be filled or fixed.  Dental implants run about $1,000 per implanted tooth.  This can certainly be costly compared to $3,000 you may pay for a full set of dentures.  But where did the idea stem from?
The Mayans were said to be the first successful people to create dental implants and this dated back to 600 A.D.  People have no doubt been losing their natural teeth for centuries and since they are so important to leading a healthy lifestyle, it is no wonder people were always looking for a permanent and comfortable solution.  Back in the day, tooth loss was even more prevalent due to the minimal access of dental tools such as fluoride pills and the advanced toothpastes that are on the market today.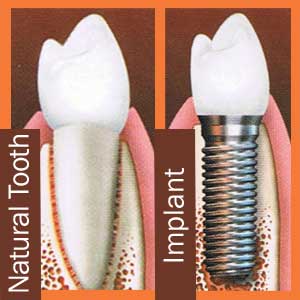 In 1978, dental implant officially came to market.  A Swedish orthopedic Surgeon named Per-Ingvar Brånemark brought them to market.  He patented the idea in 1965 and had experimented with metal being fused to a prosthetic tooth years prior to that.  Although dental implants have only been around for a little over 40 years their large success rate has made them super popular worldwide.  Brånemark invented a dental technology that is sure to be around for decades to come.
If you are considering investing in a dental implant wait no further.  It is a natural way to fill a gap in your mouth and go back to eating the way you always used to.  Don't suffer with a removable dental fix since the permanent solution is so much more worth it.  Our Las Vegas Dentists  are trained to make the implant process as easy and painless as possible. Most dentists or oral surgeons opt to put patients to sleep in order to ease any worries or discomfort.  Do you work a full-time job?  Local dentists are also flexible and a our Las Vegas emergency dentist can see you so you do not have to take time away from the office.  Stop hiding your smile, let a dental implant do wonders for you today!