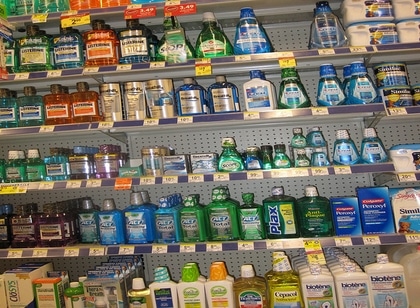 Bad breath! Yikes. Fewer things help ruin a first impression (or a third date… or any date, for that matter), but lots of people object to fluoride and/or alcohol-based mouthwashes. Whether you're a fluoride phobic tin-foil hat wearing weirdo (just kidding) or just a naturopath looking for something less chemically doctored, you've got options. Here are three natural mouthwash alternatives!
1. Tea Tree Oil
Desert Essence Tea Tree Oil Mouthwash cleans and reduces plaque buildup, using Tea Tree Oil, a completely natural plant extract with inherent antiseptic properties – extracted from the Australian Melaleuca Alternifolia tree's leaves!
2. Alcohol Free Oral Rinse with Essential Oils
Eco-DenT Ultimate Daily Rinse is alcohol free and includes an oral wound healing agent! For when you cut your gums on Captain Crunch…
3. Neem Mouthwash
TheraNeem Mouthwash from Organix South combines extracts of Neem bark, Neem leaf, clove and more! Alcohol free.
4. Make Your Own
Making your own mouthwash isn't as difficult as it may sound. Here's a great link to an article offering five home-made mouthwash recipes.
Of course it's important to see the dentist regularly, whatever mouthwash you use. If you're seeking the services of cosmetic dentists in Las Vegas, check out BDG today.
What mouthwash alternatives have you tried? Let us know in the comments below.